Sustainable Living Through Container Homes
The greatest threat to the environment is the belief that someone else will save it
According to the Intergovernmental Panel on Climate Change (IPCC) report, human activities have already caused warming of one degree Celsius as compared to the pre-industrial era. By the year 2030, or even by mid-century, global warming is likely to reach 1.5 degrees Celsius.
It's the time when people need to be aware of sustainable living. As these stats are very alarming, it is not the responsibility of just corporates but also of the common person to conserve nature.
Many of us might wonder what exactly 'Sustainable Living' is. The term sustainable living refers to a lifestyle that aims to reduce individual or society's usage of Earth's natural resources.
We all know that global warming, deforestation, and resource depletion are impacting the lives of both humans and animals. If sustainable living is adopted by people, it can be a great opportunity for people that can help to reduce the carbon footprint and impact on the environment. 
A renowned environmentalist and founder of the Worldwatch Institute and Earth Policy Institute, Lester R. Brown described sustainable living in the 21st century as 'shifting to a renewable energy-based, reuse and recycle economy with a diversified transport system.'
Scope of Sustainable Living
Many people nowadays have become highly concerned about the environment. When it comes to the construction sector, adopting the concept of prefab shipping containers for a building is one of the innovative and cost-effective ways to save the environment.
The prefab container homes are labeled as green eco-friendly living spaces because they can be reused and recycled. Notably, the cement used for building traditional homes is the most widely used substance on earth after water. The environmental impact of the cement production process starting from the pre-production stages is significant and harmful. 
Container Homes: Emerging Options for Sustainable Living
Converting a container into a luxury living space is undeniably a valuable example of recycling. This architecture is creating a buzz in the house construction business.
In 1987, a US resident, Philip C. Clark was granted the first patent for converting shipping containers into a habitable building. The patent papers show what are the possible plans for building a house from containers through some very basic architectural concepts. Today, this concept is revolutionizing the housing sector by combining modern architecture with sustainability.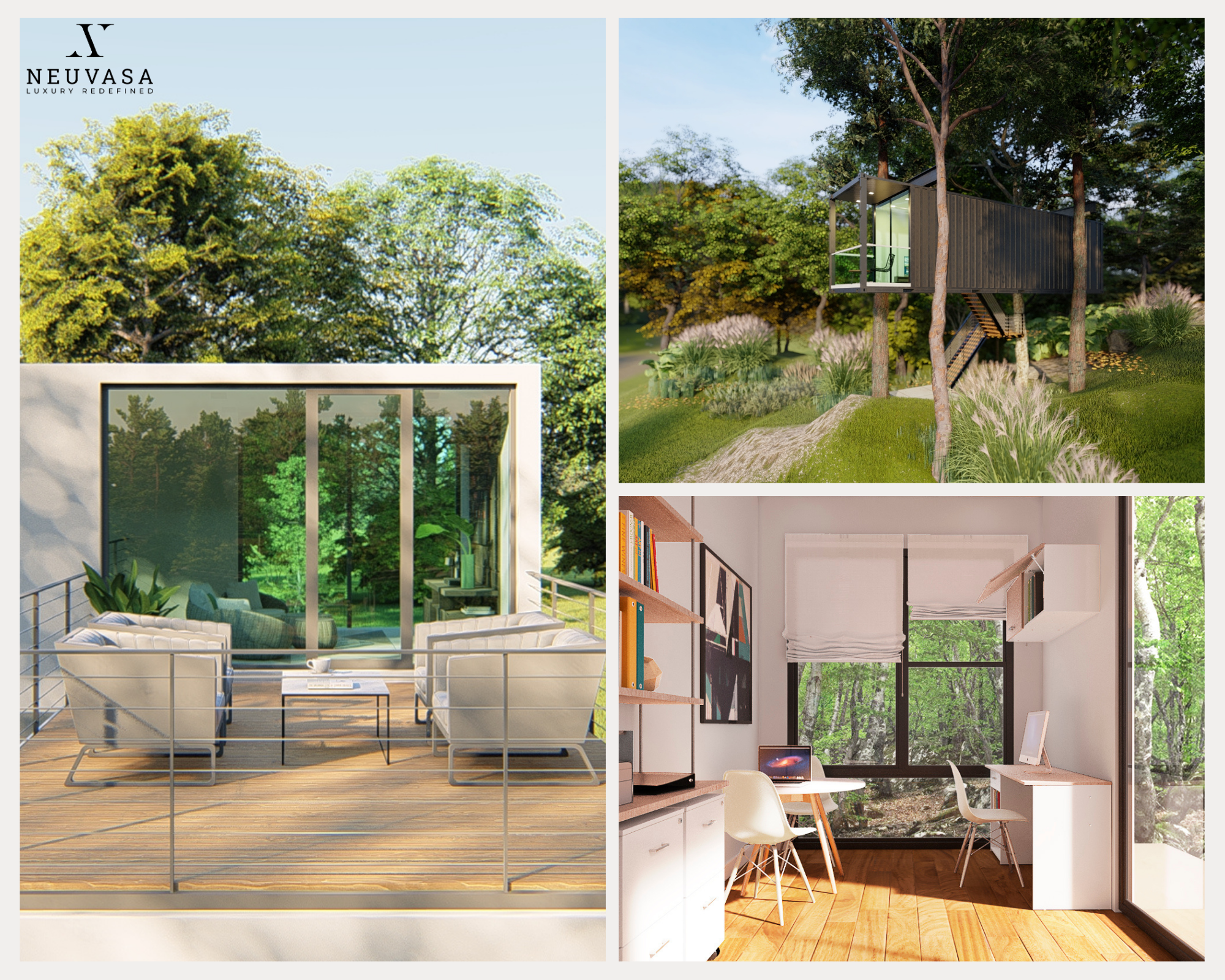 Here are 4 reasons why container homes are best for sustainable living:
Reduce energy consumption
The high-end luxury container homes are now also being built using smart automation concepts. The remote-operated system installed in the house enables an owner to control lighting, room temperature, curtain management, security cameras, etc.
Imagine, unintentionally you went somewhere leaving geyser and other appliances on. The first thing that will come to your mind will be the 'next month electricity bill', isn't it? 
People who are using smart container houses can monitor their electrical devices and switch them off from anywhere. By using less energy, you are also reducing carbon emissions. Meanwhile, property owners can optimize and save a substantial amount of money when it comes to electricity bills.
Usage of Less Cement and Concrete
The material used for construction, including concrete and cement, are the main producers of carbon dioxide, creating up to 8 percent of worldwide man-made emissions of this gas, of which 50 percent is from the chemical process and 40 percent from burning fuel. Concrete causes damage to the most fertile layer of the earth, the topsoil. 
So, using recycled prefab containers to build a structure is definitely eco-friendly. However, you still need concrete and cement for container homes but while laying its foundations, which is very less. 
Enough Space for Gardening
Who would not prefer to live in an environment surrounded by beautiful plants and home-grown organic vegetables? The modern prefab container homes help you in creating enough space for a garden. 
Meanwhile, the waste that is to be disposed of can be put on the compost heap and used as a fertilizer for your garden. You can also do rainwater harvesting and use it for gardening or other household chores purposes. 
There is no denying that if everyone puts an effort to maintain a garden in their house, it is possible to get back the greener Earth.
Quick and Easy to Build
Time is not a concern when it comes to building a container house as it is manufactured in a factory area. It would not take much longer time to build as it requires fewer efforts to raise such structures. 
Building a shipping container takes around two-three weeks as compared to the traditional structure of a house, which takes around five-six months to build. Most structures can be assembled within a day or two.
Use of Solar Panels
Sustainable houses are built using sustainable materials and the solar power panel comes on top among other materials. 
This type of energy is sustainable energy and is said to be more sustainable than other sources such as fossil fuels. As a way of converting the rays of the sun into electrical energy, these panels make use of the single most sustainable resource on the Earth that is, the light of the sun. It not only enables green practices but also saves huge electricity bills. 
Interestingly, the Indian government is also promoting sustainability by offering schemes on solar panels. This is the best way to save the environment and other resources that are depleting day by day.
Neuvasa is India's first eco-friendly prefab luxury container home builder which provides sustainable and luxury living experience together. The exclusive projects by Neuvasa are designed with optimum usage of resources and allow users to customize their homes as per need and choice. To know more about the prefab products just contact us here.